HPF Energy Services is one of the world's leading suppliers of Steel pipe, fittings and flanges.  They supply the oil, gas, petrochemical, power industries and have been a Destec distributor since 1999 for Scotland.  HPF & Destec have had much success in the offshore industry over the years and now have signed an extension of the agreement for another 5 years.  Destec will continue to support HPF with products & onsite machining services for the foreseeable future.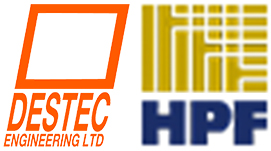 Making and Maintaining the right connection.
DESTEC ENGINEERING LTD
Five Mile Lane, Washingborough,
Lincoln. LN4 1AF. UK
Tel: +44 (0) 1522 791 721
Fax: +44 (0) 1522 790 033
Email: sales@destec.co.uk
For On-Site Services
Email: service@destec.co.uk
Out Of Office Contact:
+44 (0) 7854857865
Office Hours
Mon-Thu: 08:30-17:00
Fri: 08:30-16:30
Sat-Sun: Out of office contact
Instagram
Instagram has returned invalid data. Follow Me!