Designed specifically as an Inspection Cap they have all the features required by Boiler and Pressure Plant operators.
Available in 3 sizes:- 40mm, 100mm & 150mm full through bore at maximum pressure and temperature rating.
Ease of Access
Extreme Leak Tightness
Re-Useable Seal Rings
Standard Fittings
Long Service Life
"For the price of Destec Inspection Caps, how much longer can you afford to use standard welded caps with all the welding, N.D.T and heat treatment involved".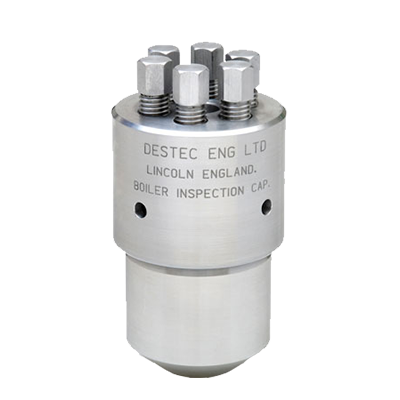 Making and Maintaining the right connection.
DESTEC ENGINEERING LTD
Five Mile Lane, Washingborough,
Lincoln. LN4 1AF. UK
Tel: +44 (0) 1522 791 721
Fax: +44 (0) 1522 790 033
Email: sales@destec.co.uk
For On-Site Services
Email: service@destec.co.uk
Out Of Office Contact:
+44 (0) 7854857865
Office Hours
Mon-Thu: 08:30-17:00
Fri: 08:30-16:30
Sat-Sun: Out of office contact
Instagram
Instagram has returned invalid data. Follow Me!